Welcome to the Nikita CW Wiki
The ultimate resource for CW's spy drama, the 2010 Nikita series that anyone can edit.
Featured Article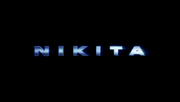 Nikita is an American television drama for The CW Television Network. It is loosely based on the French film
On May 17, 2011, Nikita was renewed for a second season and will start airing on September 23, 2011.Nikita (1990), the remake Point of No Return (1993), and a previous series a Femme Nikita (1997). Nikitapremiered on September 9, 2010.
The series borrows many characters, or at least their names, from the 1997 television series La Femme Nikita. Maggie Q portrays Nikita, the main protagonist and a former spy and assassin who has gone rogue and now has plans to bring down Division. Q also performs her own stunts. Shane West plays Michael, a Division operative who trained Nikita. More
Poll
Who will join Nikita's cause next?
Latest Episode
Pandora
Percy attempts to take over the CIA, Alex goes rogue, and Michael finds himself trapped inside Division, unable to help Nikita, whose life is in danger after helping Alex. The season finale begins where we're glad it didn't end, with a cleaner getting ready to dispose of Nikita's dead body. But it turns out Alex shot her cohort with a tranquilizer, not real buckshot. Luckily some face-melting acid is at the ready when she revives. The cleaner gets it and Nikita gets out. She immediately runs for CIA HQ, knowing that Alex set nerve gas on the black box that the CIA was currently trying to decrypt. This is all part of Percy's plan to take out the head of the CIA with the nerve gas and then take over the agency. And of course, Percy knows saving him will be Nikita's next move, so he orders a sleeper agent on her tail immediately. More
Ad blocker interference detected!
Wikia is a free-to-use site that makes money from advertising. We have a modified experience for viewers using ad blockers

Wikia is not accessible if you've made further modifications. Remove the custom ad blocker rule(s) and the page will load as expected.